CASA DEL AGUA Sian ka'an Boca Paila S/N km, 12.8, Sian Ka´an, Quintana Roo, Mexico
Contact
Represented by
5th Avenue and 34th Bosque de los Aluxes
Playa del Carmen
,
Quintana Roo
,
77710
Mexico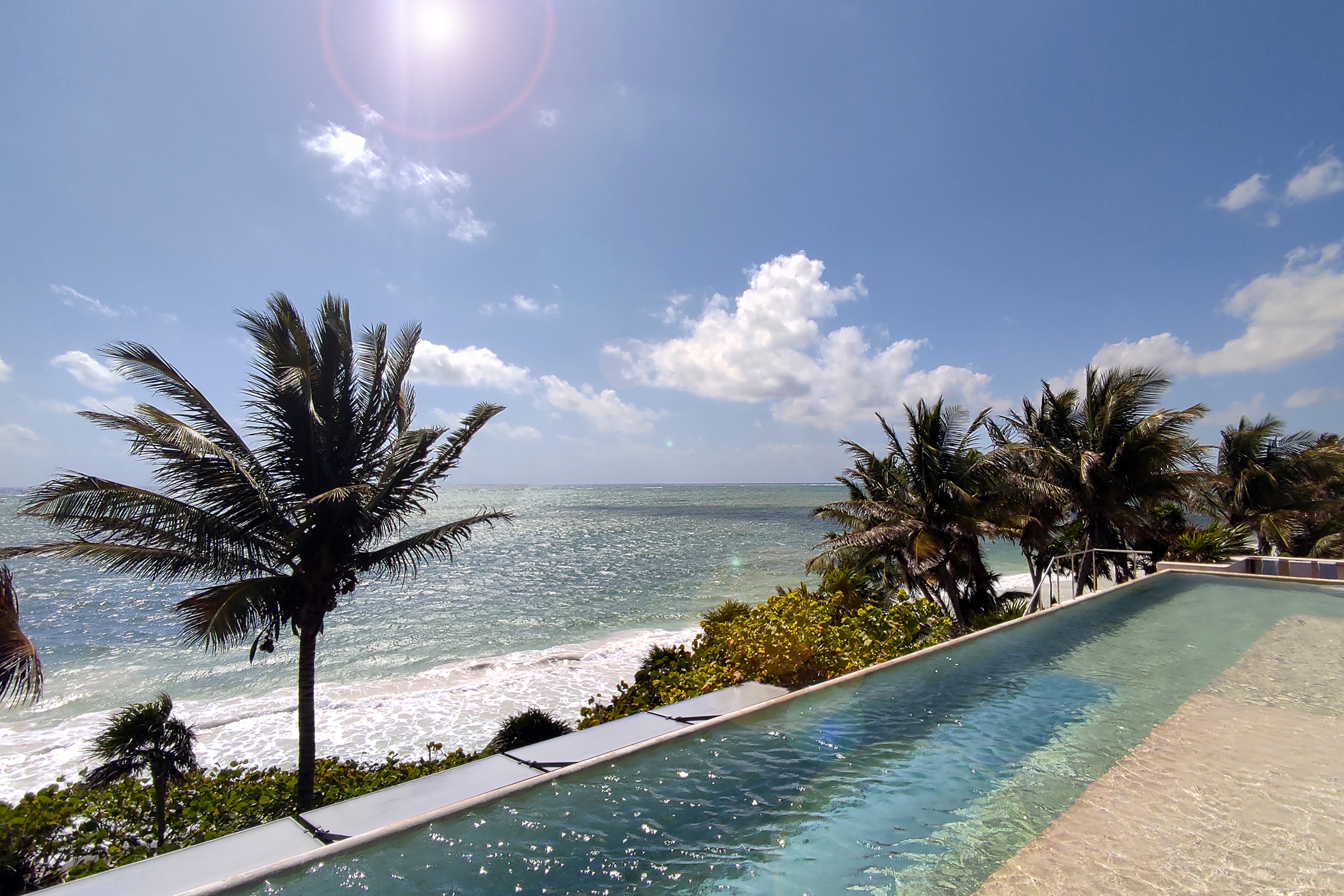 LUXURY SELF-SUSTAINABLE HOUSE, NESTLED IN AN OASIS OF JUNGLE AND SEA
$4,500,000
AMERICAN DOLLAR
GALLERY
Photos and videos from LUXURY SELF-SUSTAINABLE HOUSE, NESTLED IN AN OASIS OF JUNGLE AND SEA
ABOUT CASA DEL AGUA SIAN KA'AN BOCA PAILA S/N KM, 12.8, SIAN KA´AN, QUINTANA ROO, MEXICO
Experience luxury and sustainability at Casa del Agua, located in the Sian Ka'an UNESCO protected Biosphere Reserve in Tulum, Quintana Roo, Mexico.
This impressive minimalist house sits on a 279,871 ft2 lot with 330 ft of beachfront, lagoon access and 360° views, making it truly unique.
Featuring two spacious suites with private terraces and stone bathtubs with sea views, and two additional suites also with private bathrooms and terraces offering breathtaking jungle views, Casa del Agua has it all.
The open living and dining room connects to two large terraces, one overlooking the sea and the other one the surrounding jungle vegetation. The bottom of the pool, which is part of the roof of the social area, allows lighting with stunning movement during the day and even at night.
It has a professionally equipped kitchen that can be incorporated or completely isolated from the social spaces, through cleverly hidden sliding doors made of hard tropical wood.
The infinity 66ft heated lap pool is situated on the roof terrace, and provides a 360-degree view of the sea, jungle and lagoon.
The property also includes a secluded service area with 3 bedrooms, a full bathroom, kitchen and dining room, a technical room, and a storage room for bedding and supplies, completely separated from the rest of the house.
Casa del Agua is equipped with renewable green energy sources, including wind turbines and photovoltaic cells, as well as a powerful backup generator. The water treatment system includes chained septic tanks for additional waste pre-processing and a natural wetland water treatment system. The pool is sanitized with the latest technology based on copper ions and no chlorine, and is heated with a solar energy system. It has a heat pump as backup heating for cloudy days, and two water gas boilers located directly under the bedrooms.
Experience luxury living in harmony with nature at Casa del Agua.
Average annual property tax payment: $35,274 pesos
Zofemat average annual payment: $79,782.59 pesos
REPRESENTED BY
5th Avenue and 34th Bosque de los Aluxes
Playa del Carmen
,
Quintana Roo
,
77710
Mexico
Property ID: BMH9J4
Represented by
5th Avenue and 34th Bosque de los Aluxes
Playa del Carmen
,
Quintana Roo
,
77710
Mexico
AMENITIES
Live Water
Lagoon
Ocean
Granite Countertops
Lagoon
Waterfront
Hot Tub
Ocean
ABOUT THIS AREA
The property is in the Sianka'an Biosphere Reserve in the Riviera Maya, a landscape where the jungle and its exuberant nature merge with the Caribbean Sea and the Boca Paila lagoon.
Zone protected by Unesco, where the lots are 107,639.1ft2 or more and the permitted construction densities are very low, to preserve the Reserve and guarantee visitors or owners of these properties, the tranquility and beauty of the place. Only 1% of the extension of the Reserve is in private hands, making the properties unique and exclusive.
the property is accessed throw a jungle path, its entrance set back from the road and culminating in a garden of native orchids.
A local fauna coexists with nature and the residents of the place and turns this reserve into a unique and unrepeatable place.