Avenida Juan Ek entre calle Nak Be y Calle Yaxchilán Aldea Zama Tulum, Tulum, Quintana Roo, Mexico
Contact
Represented by
5th Avenue and 34th Bosque de los Aluxes
Playa del Carmen
,
Quintana Roo
,
77710
Mexico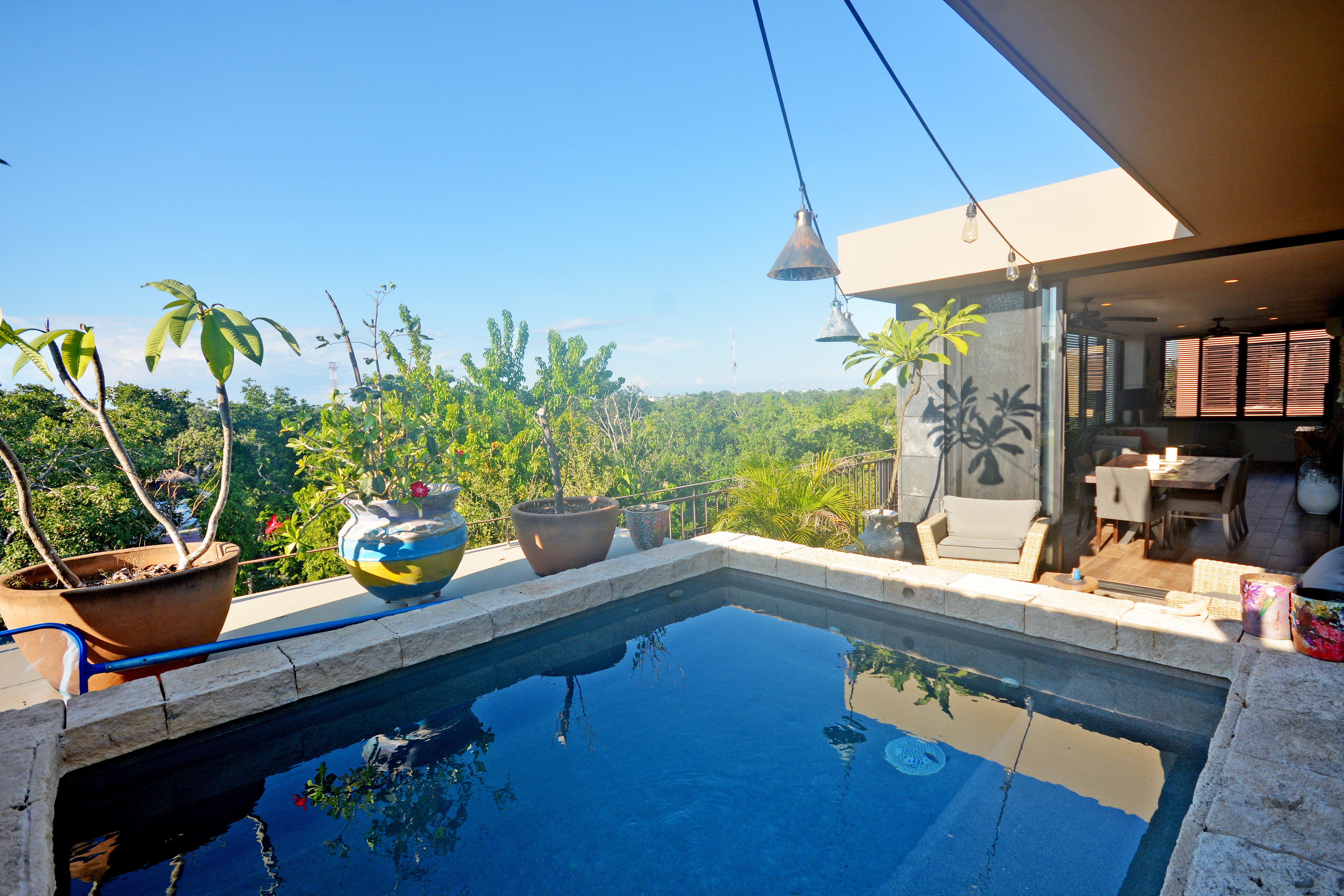 EXCLUSIVE PENTHOUSE WITH EXCELLENT FINISHES, DESIGN, ART AND ARCHITECTURE.
GALLERY
Photos and videos from Exclusive penthouse with excellent finishes, design, art and architecture.
ABOUT AVENIDA JUAN EK ENTRE CALLE NAK BE Y CALLE YAXCHILÁN ALDEA ZAMA TULUM, TULUM, QUINTANA ROO, MEXICO
This Penthouse condo is something unique in the area. A place full of art and fine architecture, furnished with an extraordinary design and fully equipped. Among the building amenities, it has a botanical garden, a hydrotherapy pool, swimming pool and solarium. In addition to a restaurant and bar, it will have a wine cellar, spa and gym with state-of-the-art technology, it has an art gallery inside of every building with a special touch in the entire development. It is an ideal place to invest and obtain a great benefit in vacation rental.

The apartment has 1,149.60 Sq Ft (106.80 m2) of interior, plus a terrace of 159.30 Sq Ft (14.80 m2) and a pool of 109.70 Sq Ft (10.19 m2) where you can enjoy the incredible sunsets full of colors creating each one a work of art.
HOA 6,488 pesos/month
Property taxes 9,214 pesos /year
REPRESENTED BY
5th Avenue and 34th Bosque de los Aluxes
Playa del Carmen
,
Quintana Roo
,
77710
Mexico
Property ID: RWDCQ7
Represented by
5th Avenue and 34th Bosque de los Aluxes
Playa del Carmen
,
Quintana Roo
,
77710
Mexico
AMENITIES
Terrace / Outdoor Space
Doorman
Breakfast Bar
ABOUT THIS AREA
It is the ideal place for those who seek rest and reconnection with nature, offering a space of relaxation and inspiration. Enjoy a quiet life and first class services with the relaxation that only the Caribbean can offer. The ideal paradise to see sunsets in one of the best gated communities in the heart of Tulum and a few minutes from the Caribbean Sea. This is a space in the Riviera Maya that is transformed into a building with art and design, and in one of the best investments to make today and continue enjoying in the future. Besides being able to enjoy the beauty of the surroundings, its beaches, the nearby natural sites such as Sian Ka'an and the picturesque restaurants of the hotel zone, as well as its bars and shops.
Relaxation, rest, culture just some of the benefits of living in one of the most beautiful areas of the Caribbean. Your home in the Mayan jungle for rest and inspiration.