La Veleta Departamento en 10 sur esq. con Región 015 mza 006 lote 014, 015, 016, Tulum, Quintana Roo, Mexico
Contact
Represented by
5th Avenue and 34th Bosque de los Aluxes
Playa del Carmen
,
Quintana Roo
,
77710
Mexico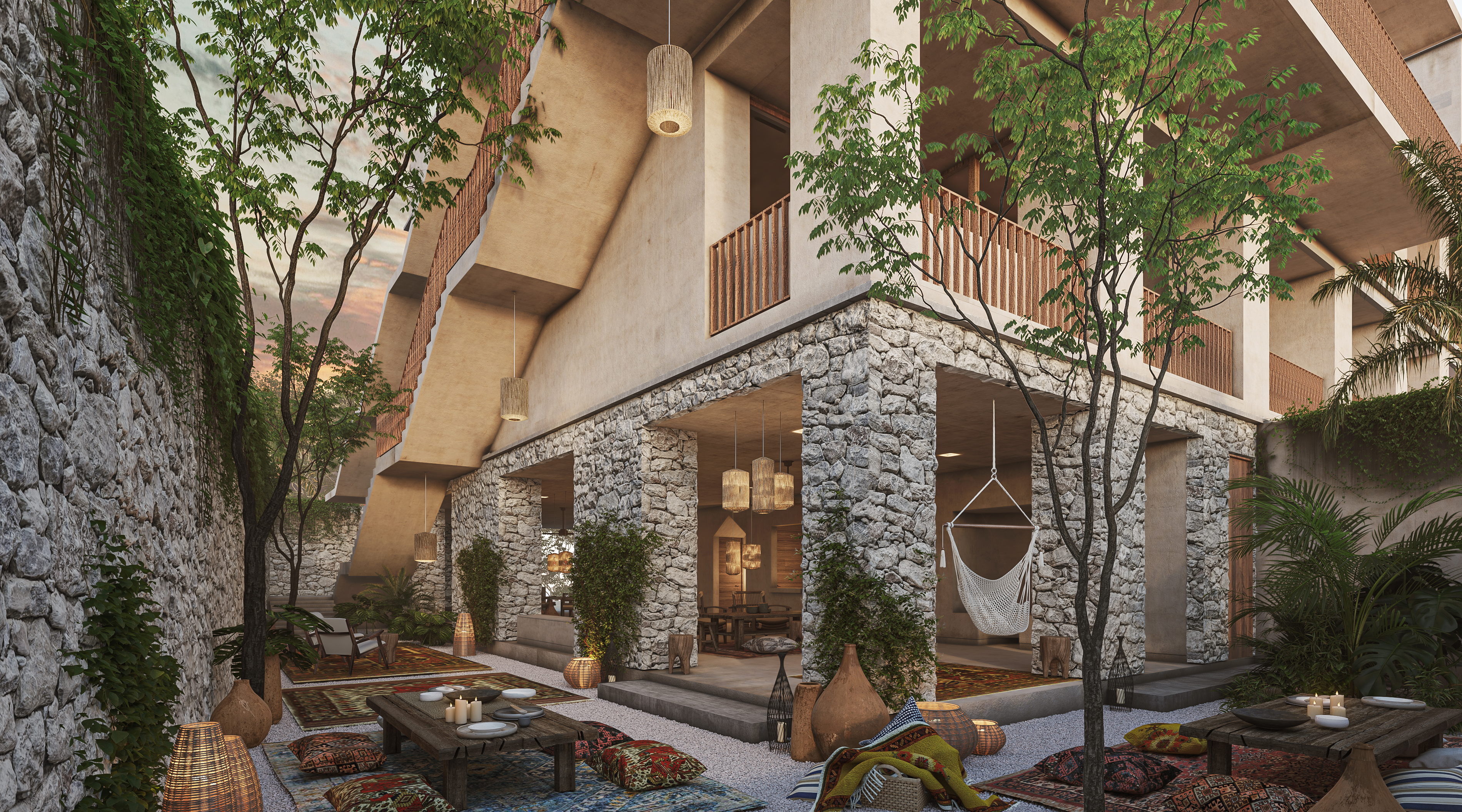 18 LUXURY BOUTIQUE CONDOMINIUMS WITH BEACH ACCESS.
GALLERY
Photos and videos from 18 LUXURY BOUTIQUE CONDOMINIUMS WITH BEACH ACCESS.
ABOUT LA VELETA DEPARTAMENTO EN 10 SUR ESQ. CON REGIÓN 015 MZA 006 LOTE 014, 015, 016, TULUM, QUINTANA ROO, MEXICO
18 Luxury boutique art condos
๏ Easy beach access
๏ Luxury interiors
๏ 5-star management
๏ Pre sale discounts
๏ 100% ownership
๏ Only 30% down payment
๏ Lifetime passive rental income (8.91% estimated cap rate)
Its architecture is a tribute to the beauty of Tulum with residences designed to inspire recognition and gratitude for the generosity of nature.
Typologies:
Balcony 1 bedroom 876 ft2 82 m2 $222,181
Jungle 1 bedroom 1,341 ft2 125 m2 $333,839
Villa 2 bedroom 1,596 ft2 148 m2 $381,975
Jungle 2 bedroom 1,756 ft2 163 m2 $420,085
Sunset 3 bedroom 1,895 ft2 176 m2 $471,542
Penthouse 2-bedroom 1,788 ft2 167 m2 $495,934
Villa 2 bedroom 2,193 ft2 203 m2 $524,450
These prices do not include the equipment, furniture and decoration package.
Located in Tulum in La Veleta, 8 min drive to the beach and 3 minute walk to the supermarket.
Amenities: 24/7 concierge, restaurant/bar, art gallery, boutique store, co-working, live entertainment, wellness area, pool with solarium, swimming pool and solarium.
Sustainable solutions: rainwater recirculation, water softener, biodigester, solar panels, local materials and site waste management.
Regional materials such as Tzalam, Maya construction techniques such as Chukum applied in all floors, walls and ceilings. Combined with limestone, a stone used to build several Mayan archaeological sites. Each element in perfect harmony with the environment providing jungle, vegetation spaces and water basins around the building.
REPRESENTED BY
5th Avenue and 34th Bosque de los Aluxes
Playa del Carmen
,
Quintana Roo
,
77710
Mexico
Property ID: XK8DWV
Represented by
5th Avenue and 34th Bosque de los Aluxes
Playa del Carmen
,
Quintana Roo
,
77710
Mexico
ABOUT THIS AREA
The project is situated between the pristine beaches of the Riviera Maya and the bustling downtown of the city of Tulum in the neighborhood of La Veleta.
Swimming, sunning, and water sports are reachable by bike (15 mins) or car (10 mins) from the newly built beach road, Avenida Kukulcan.
Downtown restaurants, yoga studios, supermarkets and other amenities are only a short walk away.
It is located in the region called "La Veleta," where new housing developments begin to rise up among the jungle.
A town proud of its strong cultural identity and natural landscapes of dense jungles.
Tulum is more than pristine beaches, vibrant jungles and isolated cenotes; it is the collective spirit of conscious and positive energy that makes Tulum more tan just a vacation destination.
We are building this project for people who, like us, can't get enough of this unique feeling of Tulum. Every detail has been carefully selected to awaken the spirit and catalyze living life to the fullest.
Your apartment is a sanctuary of luxury and calm while community spaces invite you to connect with new experiences and chance encounters.
This represents the culture that will surround the building and its activities. An expression of service and respect to all that is. A profound element of admiration.